Camp Registration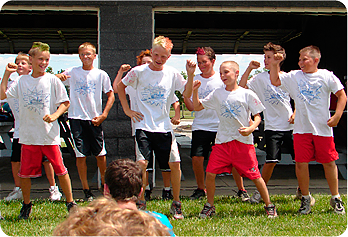 Register now for a camp near you! Click here for camp listings
Our Happy Campers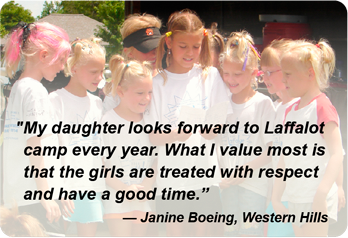 For more quotes from happy campers click the link below.
Voted Best Camp...
Voted "Best Camp For Kids: Fun and Games" by Cincinnati Magazine!


Have tons of fun and learn valuable skills!
Laffalot Summer Camp offers kids 6-12 years old a week of fun-filled activities that will leave them smiling, exhausted and ecstatic. Led by well-trained counselors, your child will spend the day playing high-energy sports and games that help them:
Develop teamwork




Build whole body coordination




Improve interpersonal skills




Learn sportsmanship




Enjoy friendly competition
Helping kids have fun for over 25 years, Laffalot offers 50 different camps serving over 1,500 campers each year in locations stretching from Northern Kentucky north through Greater Cincinnati all the way to Toledo, Ohio. Click here for a map of our locations.